Frankie Dettori is a true champion and a living legend within his own sport of horseracing. Having ridden winners in every racing country around the world he made history at Ascot on 28th September 1996 when he rode every winner on the seven race card for his very own 'Magnificent Seven'.
Name: Lanfranco Oscar Dettori
Born: 15th December 1970
Height: 5'4″
Weight: 115 pounds
Interests: Golf, Cooking, Sport and Wine
Also available for voiceover work. Frankie speaks fluent Italian and English and has an Italian accent.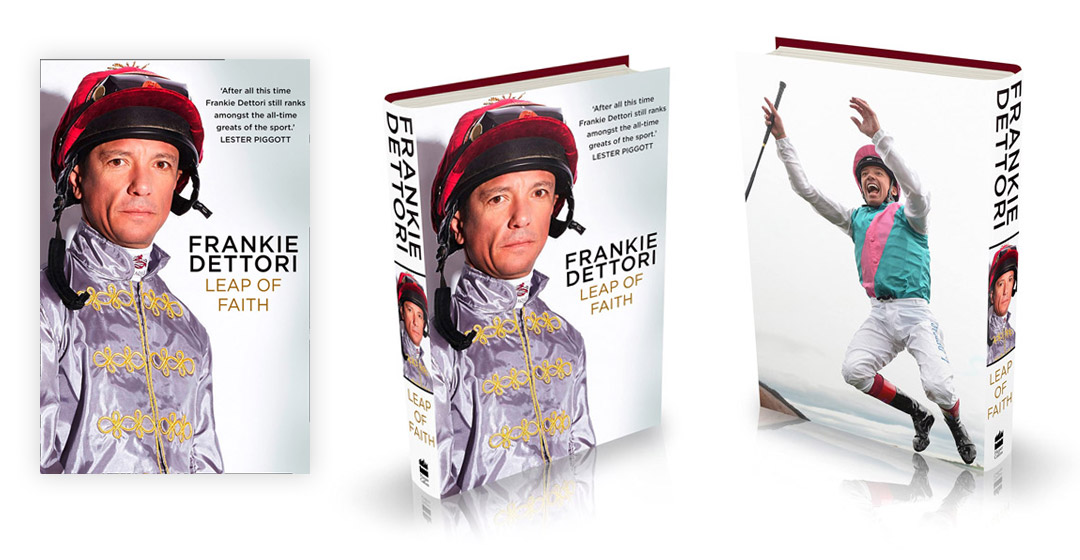 NEW BOOK RELEASE.
Frankie Dettori's new autobiography 'Leap Of Faith' is AVAILABLE NOW!
"I wrote my previous book over 15 years ago now, in 2005. At that time, I could simply never have imagined that I would still be in the saddle aged 50.
But more than that I would never have predicted – not in my wildest dreams – the incredible journey I have been on. My life has been a wonderful, extraordinary privilege and, you know, I don't think I would change a thing. Yes, I've had highs and lows – and it's not always been easy – but I feel so incredibly grateful to be where I am today.
It is my love for the sport, for the great horses I have the honour to ride and most importantly, the love for my family who have supported me every step of the way – that have enabled me to take many LEAP OF FAITHS.
I can't wait to share my story with you all.
It's available to buy now!" 
NEW DOCUMENTARY IN CINEMAS AND ON BLU-RAY, DVD & DOWNLOAD.
Don't miss this stunning and cinematic new documentary telling Frankie's remarkable story as you've never seen before.
Dettori is the exhilarating, tub-thumping celebration of inspirational jockey Frankie Dettori, the rock star of racing and one of the most decorated sportsmen of all time, named Longines World's Best Jockey for the last three years.
Winner of over 3000 races, and fondly seen as the happiest man on the circuit, Dettori has led a seemingly charmed life. But his true story is one of titanic struggle, transformation and renewal.
Stepping out from the shadow of his own champion jockey father, escaping from the inferno of a deadly plane crash, overcoming a drug scandal, yet repeatedly pushing himself to new heights of success, he has proven himself to be the best, time and again.
Dettori offers an intimate, behind-closed-doors look at Frankie and the inner sanctum of the racing world.
See it in selected cinemas and on Blu-ray, DVD & Download-to-Own NOW! 
Watch the trailer below!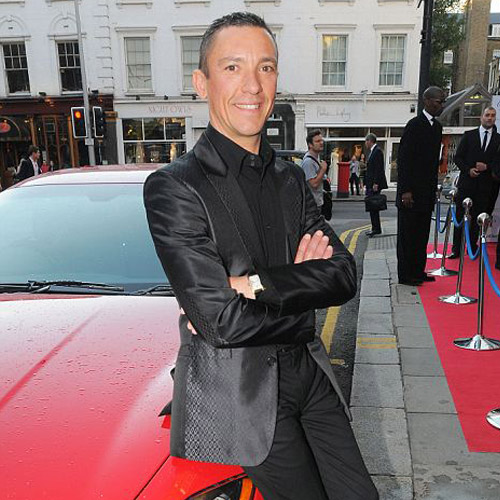 He has now ridden over 2,000 winners and has also expanded his career to the small screen having made many appearances on television at the highest level and has also been a Co-host on the BBC's 'A Question of Sport'. He lives in Newmarket, Suffolk with his wife Catherine and their five children Leo, Ella, Mia, Tallulah and Rocco.
1987: First rides as an apprentice and starts to win races.
1988: Loses his 'claim' and is crowned champion apprentice.He is the first apprentice to ride more than 100 winners since Lester Piggott.
1989: Appointed stable jockey to Luca Cumani and starts to ride all around the globe.
---
1993: Appointed retained jockey for Sheikh Mohammed Al Maktoum.
1994: Rides a record 230 winners from 1,000 rides.
1995: Wins The Breeders Cup Mile and the St. Leger.
1996: Goes through the card at Ascot for 'The Magnificent Seven'.
1997-Present: Continues to ride for Sheikh Mohammed and big race victories include The Oaks, 2000 Guineas, 1000 Guineas, The Breeders Cup, Japan Cup, St. Leger. Some of these races he has won twice and also a string of big race victories around Europe, Hong Kong and Australia.
---
2000: Survives plane crash with fellow jockey Ray Cochrane.2004: Champion Jockey
2004: Starts "Frankies Italian Bar and Grill" with Marco Pierre White and this chain has now expanded to a total of eight restaurants in London, Dublin and The Middle East.
2006: Won The Derby at Epsom
---
2013: Formed The Sydney Street Grill with The London Steakhouse CompanyTook part in Celebrity Big Brother Book release October 2013
2014: Frankie signs to ride for Al Shaqab Racing and numerous Group race successes follow as well as a new sponsorship contract with Your Golf Travel and a gaming deal with Playtech.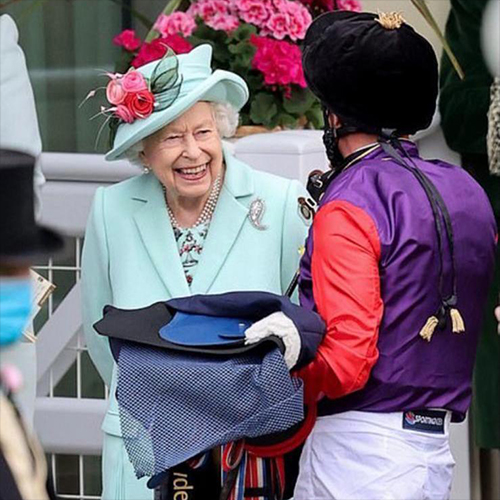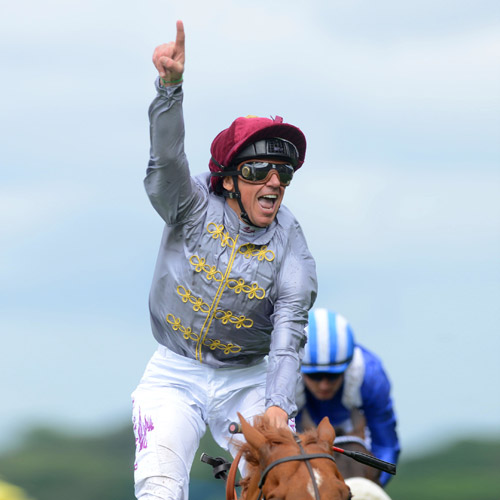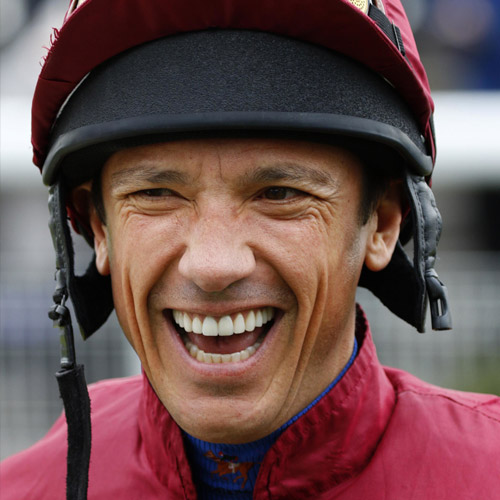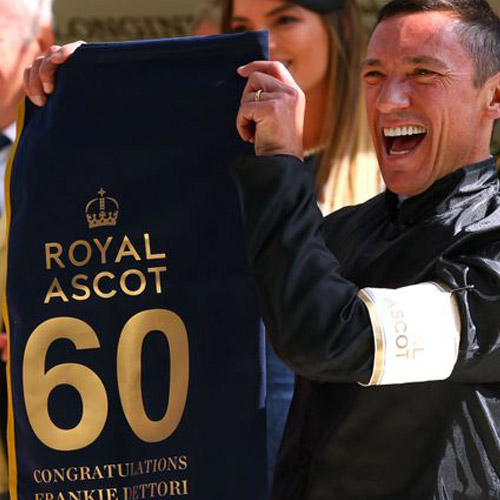 015: Wins The Investec Derby and Prix De L'Arc de Triomphe plus Frankie rides a landmark 50th winner at Royal Ascot.
2016: Wins 2000 Guineas and St James Palace Stakes on Gallileo Gold plus several other victories at the highest grade including five more Royal Ascot winners.
2017: Wins a record 5th Prix de L'Arc De Triomphe on Enable who also wins four other Group One races including The Investec Oaks at Epsom.
2018: Claims his 60th Royal Ascot winner on Stradivarius for his sixth Gold Cup
2019: Wins The King George on Enable and rides 5 winners at Royal Ascot including a third Gold Cup on Stardivarius and has the best of Too Darn Hot who is the top two year old.
Filming of "Frankie" the movie commences.
2020: Rides his 70th Royal Ascot winner and numerous other big race victories in England. Signs to represent Sporting Index.
2021: Wins the 1000 Guineas on Mother Earth and The Oaks on Snowfall and rides three winners at Royal Ascot.
Becomes the highest winning jockey in Te Prix de L'Arc de Triomphe with six wins.
"Frankie" the movie is released in November and " Leap Of Faith " a major autobiography is released in October by publishers Harper Collins. 
2022: Big wins this season included The Dewhurst on Chaldean, Coronation Stakes on Inspiral and the Dubai World Cup on Country Grammer as well as other worldwide Group 1 races.
In December, Frankie announced to ITV that he would be undertaking a 'farewell' world racing tour riding in different countries and retiring at the end of next year, with his final rides most likely coming at the Breeders Cup Meeting at Santa Anita in November 2023.
2023: In his final year to date, Frankie began with a ten week stint in the USA based at Santa Anita Park as part of its winter racing programme. This included a treble on the card with Country Grammer taking the San Antonio Stakes. So far Frankie's big-race wins have included his fourth 2,000 Guineas on Chaldean, his seventh Oaks winner on Soul Sister, the Group 1 Coronation Cup at Epsom on Emily Upjohn and The Group 1 Dubai Turf on Lord North, reflecting his longevity at the top and the unrivalled success he has enjoyed throughout a golden career.
On 22nd June 2023, Frankie wins his ninth and final Gold Cup at Royal Ascot.
Awards
1997: Third in the BBC Sports Personality of The Year.
1997: Third in the BBC Sports Personality of The Year.
2001: Awarded an MBE.
Numerous awards within racing, including awards of merit from Cartier and his own peers within the world of horseracing.
Television Appearances
Team Captain on the BBC's 'A Question of Sport'
T.F.I Friday -Frankie was the most requested guest
Hosted Top of the Pops
This is Your Life
Parkinson Show on the BBC
Des O'Connor Tonight ITV Show
Grandstand
Sportsnight
Clive Anderson TV Show
Frankie has also made numerous appearances on radio and in the written media
Commercial and brand representation
Yves St. Laurent Pour Homme
McDonalds
Lloyds Bank
DFS Furniture
Dettori's Italian Foods (own range)
One 2 One
Horserace Totalisator Board
Arena Leisure
Thorntons Chocolate
Two video releases and two books 'A Year in the Life of Frankie Dettori' and his autobiography 'Frankie'
Frankie Dettori has also written for The Daily Telegraph, Mail on Sunday, Sunday Mirror, The Times and The Sun.
Find Frankie Dettori on Facebook, Twitter and Instagram
Request a personal video message from Frankie, sent directly to you or a friend or family member!

FILM
Franki Dettori: An Out of the Ordinary Winner
Franki Dettori feared that his best years were behind him, but that didn't stop Britain's best-loved jockey from trying again and again until the one race that eluded him was won.