More commonly known as Charlie Brocket, Lord Brocket comes from an ancient Irish family called O'Cahan. The name was changed to Cain when Robert O'Cahan emigrated to Liverpool in 1844 to start his brewery that became a household name and grew into Allied Breweries.
Charlie was educated at Eton, carried out his practical training as an architect and then served five years with the 14th/20th King's Hussars, in Northern Ireland, the Middle East, Far East and Germany.
He inherited the family home, Brocket Hall, in 1971 in a semi-derelict state and took up his seat in the House of Lords the same year, becoming the industry's spokesman on tourism.
Home to two Prime Ministers, Lord Melbourne and Lord Palmerston, he turned Brocket Hall into the premier high-level conference venue in Europe, hosting numerous political summits between world leaders.
MORE ABOUT LORD BROCKET
In 1992 he built the first of two championship golf courses. The success of the venture led Charlie to build up one of the world's largest collections of classic Ferraris and Maseratis, forty-two in total. These included three unique Ferraris, Lauda's 1971 formula one Ferrari and Fangio and Moss's legendary Maserati 300s, considered by many the best sports racing car of all time.
Despite the acclaimed success of the conference business, his passion for Ferraris and the sudden collapse of the car market in 1991 led to a threatened bank foreclosure and possible disgrace in losing the family seat. In desperation he filed a sham insurance claim, but then withdrew it. Despite this being a 'misdemeanor' in most other countries, the political sleaze issues at the time meant an example had to be shown resulting in a seven and a half year sentence and a tour of seven of Her Majesty's Prisons.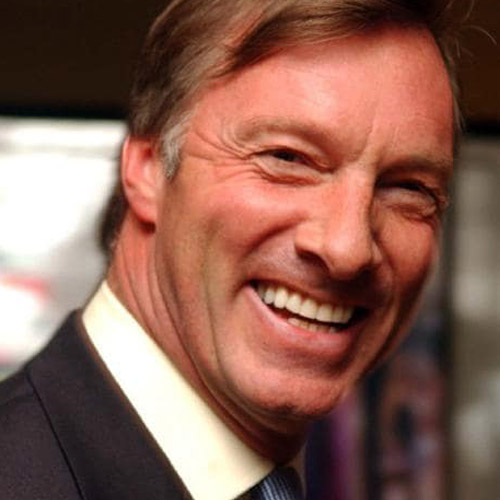 His subsequent autobiography, written with his Irish sense of humour, became a best seller and his extracted section on Princess Diana's death formed the basis of the No 1 best seller, 'The Accident Man'.
His spell in the jungle on "I'm a Celebrity, get me out of here" led to an unexpected TV career with programmes such as 'Bad Lad's Army', 'Scream if You Want to Get Off!' Charlie's last project was to avert the proposed demolition of Bletchley Park and its outbuildings. He interviewed many of the remaining decoding experts, many in their nineties, to make public the work done at Bletchley park. When the world's last great decoder, Capt Jerry Roberts, passed away Charlie was asked to give the memorial address.
Since 1980 Charlie has been rallying, racing and writing about cars, judging concours events globally and contributing to programs such as 'The World's Top Ten Cars'. More recently, since his marriage to travel photographer Harriet, he has written on a variety of subjects but all in his own unique way in which he says it like it is.
Charlie's regular motorbike epic journeys include an 11,000 miles adventure through eighteen countries on a Harley Davidson from London to Algeria and then circumnavigating the Mediterranean to benefit the children's charity Click/Sargent.
Charlie leases the business that he established at Brocket Hall to a Chinese consortium, and still administers the remainder of the estate.
He has three previous children from his first marriage and two young daughters from his marriage to Harriet, a travel and interiors photographer.